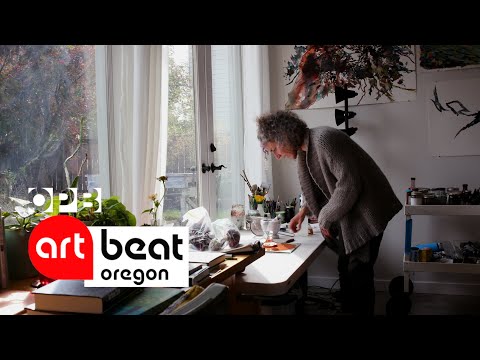 This profile offers a good introduction to what I do and why I do it.

Bio + Artist Statement
Daniela Naomi Molnar is an artist, poet, and writer working with the mediums of language, image, paint, pigment, and place. She is also a wilderness guide, educator, and eternal student. A cornerstone of her practice is to be resolutely non-competitive, non-expert, and committed to always changing. She can be found in Portland, Oregon, exploring public wildlands, or at www.danielamolnar.com / Instagram: @daniela_naomi_molnar
For the patient and/or curious:
My art is about transmuting grief to wonder in order to help shape and nurture generative new questions, feelings, and ethics about what it means to be human at a time of socioecological crisis.
Climate justice, climate grief, and intergenerational trauma are topics I've focused on in recent years. These intractable issues tend to break hearts closed — my work aims to pry those breaks open so that we can ask better questions of ourselves and our world.
My primary tools to facilitate this transformation are color (in visual work), and sound (in language work). Both color and sound are direct paths to embodiment. Ideas need bodies. Good questions can't be asked when we are trapped in our brains. My work celebrates the boundless generosity and feral memory of materiality (pigments, water, and language as a bodily force).
My work was the subject of a recent PBS Oregon Art Beat profile and a front-page feature in the Los Angeles Times. I am excited about the forthcoming entry about my work in the Oregon Encyclopedia. I've shown my visual art nationally, it's in private and public collections internationally, and it's been recognized by numerous grants and residencies.
My book CHORUS won the 2021 Omnidawn 1st/2nd book prize (selected by Kazim Ali). I hold an MFA in Poetry from Warren Wilson College and my writing has recently appeared in Fugue, Moss, Tripwire, Bomb Cyclone, Inner Forest Service, and elsewhere.
I have training in both science and art, which has led to diverse outcomes, including: being an Art Director at Scientific American Magazine; the art/science practice of making many of my own paints from natural pigments and wild waters; and founding the Art + Ecology program at the Pacific Northwest College of Art in 2016, where I taught for many years.
I am also a founding member of the Board of Directors and a backcountry guide with Signal Fire, an organization that provides opportunities for artists to learn about social and environmental issues by engaging with public wild lands.
I teach courses focusing on poetry, creative writing, pigment-work, and watercolor with Literary Arts, Sitka Center, Playa, Wild Pigment Project, Oregon Humanities, and elsewhere. I also offer individual mentoring focused on individuals' unique creative practice and potential.
I'm a member of the third generation of the Holocaust and the daughter of immigrants. My cat, Stir Fry, lives in Portland, Oregon (in the Cascadian bioregion, atop a buried headwaters confluence, on the unceded land of the Clackamas, Cowlitz, Chinook, Multnomah, and other Indigenous peoples). I visit him there often but I live wherever opportunity leads me.
A cornerstone of my practice is to be resolutely non-competitive, non-expert, and committed to always changing.
Download my CV (PDF)
Some clients I've worked with
Scientific American magazine, sciam.com, Scientific American MIND magazine, McGraw-Hill Companies, W.H. Freeman and Company, Electronic Publishing Services, Inc., American Society for the Technion, Floreant Press, Park Sports Physical Therapy, Santa Cruz Museum of Natural History, Educational Development Center, Inc., University of California at Santa Cruz, The Berry Botanic Garden, Marie Selby Botanical Gardens, Pacific Northwest College of Art, Outstanding in the Field, Rose Live Music, Wine Label Design, Inc., Kitchenbar NYC, Jim Denevan, Art & Spirit Yoga Vacations, Mali Mrozinski, Kazia Jankowski, Edison Woods, Deer Stop Yoga Studio, The Bear Deluxe Magazine, Bitch Magazine, Orlo, Slow Food USA, Democratic Party of Oregon, Vinartculture, Signal Fire, Brooklyn Kitchen, Ruth Tobias, Natasha Gardner, Big World/Small Kitchen, Bark, The University of Nevada.